Large Cat Knitting Bowl, Bad Ass Cat Yarn Bowl, Yarn Holder, 24k gold heart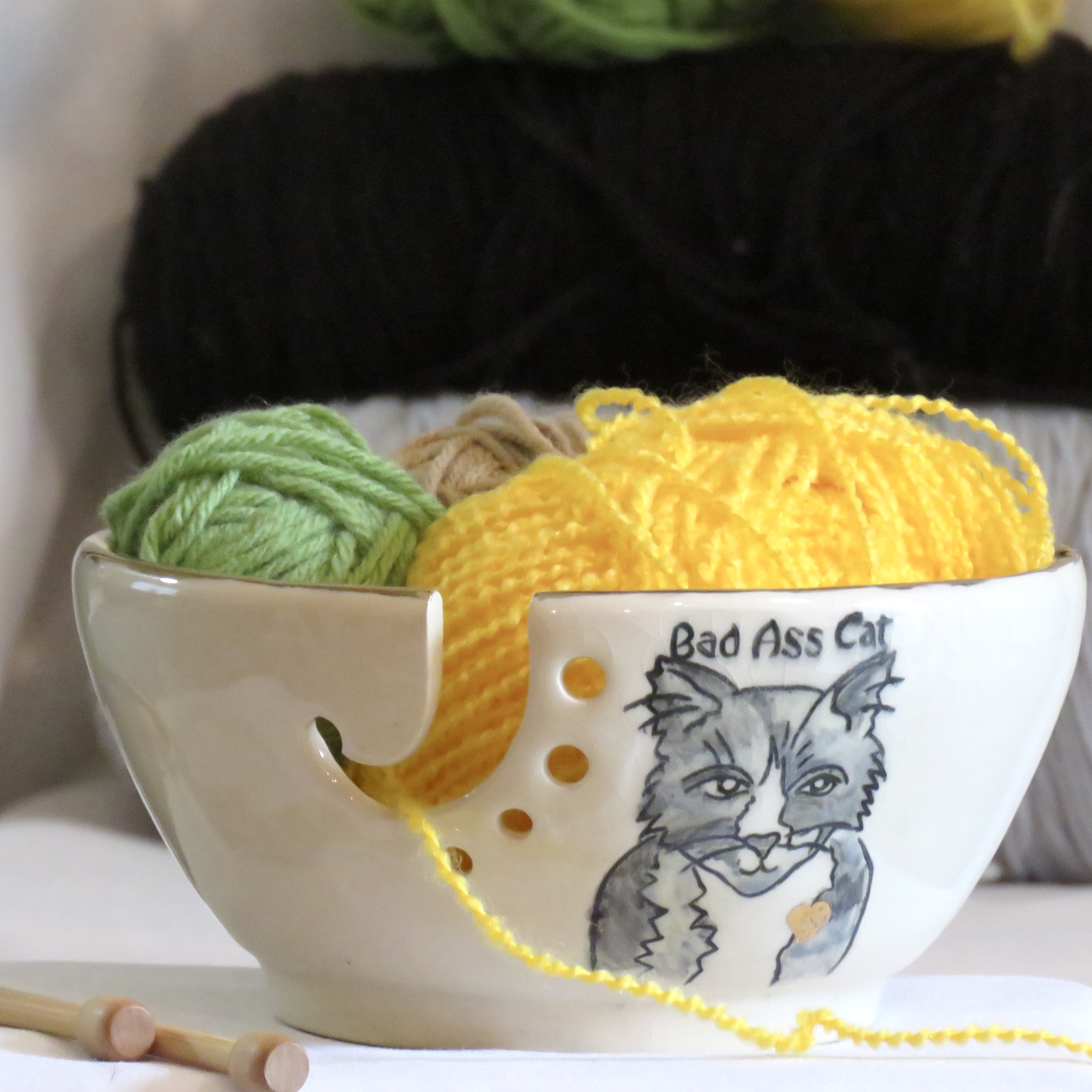 Large Cat Knitting Bowl, Bad Ass Cat Yarn Bowl, Yarn Holder, 24k gold heart
USPS Priority shipping included in price. Continental U.S. only.
You just place the yarn ball in the bowl and pull the thread through the slot as you knit. The bowl will keep the ball from rolling across the floor, out of your kitty's playful paws, and it will twist and turn in the bowl as it gets unraveled while you knit!
This is my most special yarn bowl design. It pays homage to my wonderful sweet badass cat Fluffer who had split ears from fighting with other animals outside to protect his territory but was a total love inside of our home with each of us and with all the other cats that we brought home over his 19 years of life with us.
His image is inscribed using a technique called scrafitto and is hand painted with underglaze. The finishing touch is a hand painted shiny gold lustre heart, for his heart of gold.
All of my pieces but particularly these yarn bowls are made with a lot of love and care and require several hours of work. First they are thrown from a lump of clay on the potters wheel and then trimmed. When they are "leather hard", I hand draw the images.
I then paint the images with two layers of underglaze. Next I paint wax over those images and once it is dry, carve an outline of each and any words I might be including. (This is called sgraffito) Next I paint black underglaze into the carving crevices and once dry, wipe any remaining on top. I then leave the pieces to get bone dry before firing them for the first time in the kiln.
After this first firing, I wax the bottoms and dip them in clear glaze and fire again to 2250 degrees.
Lastly, I hand paint precious gold pluster onto specific areas and fire a third time to 1450 degrees.
After all of this, they are ready for you to love and enjoy for years to come as a unique hand crafted work of art.
The holes are not just great design, they are a place to park your knitting needles or thread different weights of knitting or crochet yarn
Measuring Approximately: 7 1/4 " wide x 3 1/2 " tall
****Because each bowl is uniquely hand made, they may vary slightly in size and the poppies may look slightly different from the ones pictured**
2 in stock-Ready to ship

Each piece of Rising Star Pottery is hand thrown on the potter's wheel, glazed in lead-free glazes and fired. It is here where the kiln gods transform the final product, giving each piece its unique look.

Signed KOH by the artist

***All Designs © Karen O'Lone-Hahn***

All glazes are non toxic. All inquiries welcome, please convo me with questions.

Love, peace and pottery~ All colors are approximate and may appear slightly different depending on your monitor settings.